jailbreak iOS 6.x untethered iPhone and iPad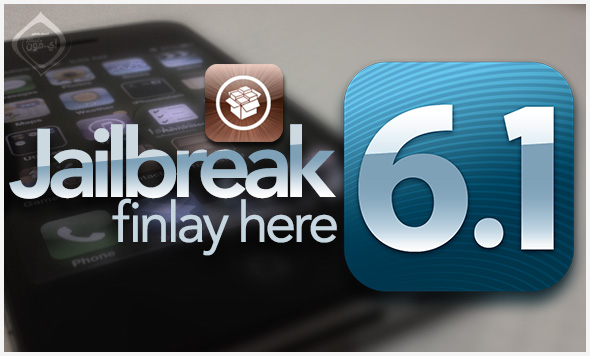 Now, after waiting months since the last Untethered Jailbreak for iOS 5.1.1, yesterday Evad3rs team released evasiOn tool which made untethered jailbreak available for iOS 6 & later.
Jailbreak Arena will give you today a full guide for how to jailbreak your device by evasiOn without any problems.
Supported Devices:
iPhone 3GS, iPhone 4, iPhone 4S & iPhone 5
iPad 2, iPad 3, iPad 4 & iPad mini
iPod Touch 4G & iPod Touch 5G
Supported iOS:
iOS 6, iOS 6.0.1, iOS 6.0.2 & iOS 6.1
Requirements:
Download EvasiOn tool for Windows, Mac or Linux.
5 minutes of your time to make the jailbreak.
PC running Windows XP or later, Mac OS 10.5 or later, Linux.
iPhone, iPad or iPod Touch running iOS 6, iOS 6.0.1, iOS 6.0.2 or iOS 6.1 you can know that from Settings>General>about. You will see beside version the version number of your iOS.
USB cable to connect your device to computer.
Important Advices:
Make Backup for your device by iCloud or iTunes before using evasiOn tool to avoid data loss.
Preferred to save SHSH file by Tinyumbrella. You can download it for Windows from here or for Mac from here.
Disable the lock passcode before using evasiOn tool.
Be patient when you jailbreak your device.
Don't run iTunes or Xcode during the jailbreak and be sure to close iTunes or Xcode before using evasiOn tool.
Don't touch your computer during the jailbreak to get the best results.
If you face any error during the jailbreak by evasiOn tool, please restart evasiOn tool or your iDevice (if necessary, you can press and hold home button and power button until turn off your device then turn on again).
How to jailbreak iOS 6.1:
Step 1: Download evasiOn tool for Windows, Mac or Linux.
Step 2: Extract the file and run evasiOn tool.
Step 3: After running evasiOn tool, connect your iPhone , iPad or iPod Touch to computer by USB cable.
Step 4: The evasiOn tool will detect your device and define your iOS, after that click the word "Jailbreak" and don't touch your computer until finish the process.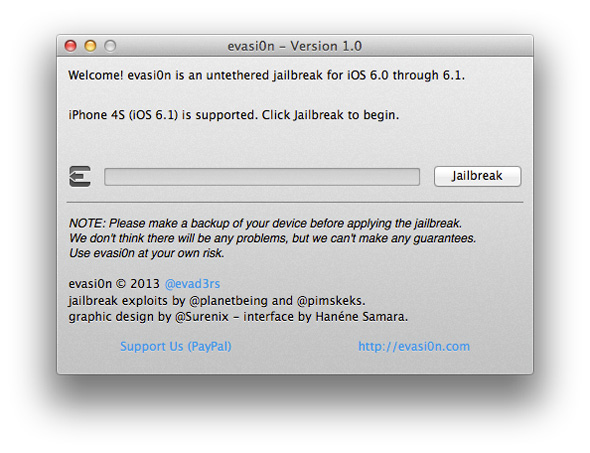 Step 5: Your device will restart many times and the evasiOn tool will ask you to unlock your device
Step 6: After you unlock your device you will see an icon called "Jailbreak", click it on time and you will see a black screen then the home screen return and the process will continue on your computer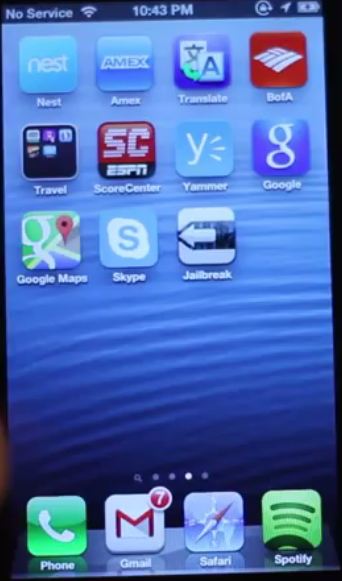 Step 7: In the end the message of "Done" will appear on your computer. After that your device will be restart, be patient in this step. Some backgrounds will appear on your device and one of these backgrounds may be delayed a little bit until disappear, after that you can say your device became jailbroken.
Step 8: Congratulations your device became jailbroken and you can see Cydia installed and enjoy it.
The final step: Don't forget to share this article with your friends and you can see the following video below:
See Video:
Don't forget to subscribe in our page on Facebook and Twitter to be informed with the latest news of jailbreak.
Original Page: http://jailbreakarena.net/how-to-jailbreak-ios-6-x-untethered-iphone-ipad-ipad-mini-ipod-touch/