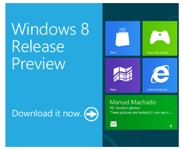 Microsoft and partners will make Windows 8 available on new PCs and via various upgrade programs on October 26, officials are saying.
The latest tidbit is Windows 8's exact availability date is going to be October 26. (The last we heard at the Microsoft Partner Conference a week ago is it would be in late October.)
October 26 will be the date Windows 8 will be available preloaded on new PCs and also to those purchasing it through one of the upgrade programs Microsoft has announced recently.
Microsoft officials shared the exact date on July 18 with the thousands of Microsoft salespeople attending the Microsoft Global Exchange Conference in Atlanta, according to a July 18 post on the Windows team blog.
Windows 8 is on track to be released to manufacturing by the first week of August, officials said last week. Windows Server 2012 and Visual Studio 2012 also will be released to manufacturing at the same time. But Windows Server 2012 won't be available to customers until September, Microsoft officials have said. Execs have declined to say when developers will be able to start using the final Visual Studio bits.
Microsoft officials said last week that business users with volume-licensing contracts will be able to get their hands on the final Windows 8 bits shortly after the product is released to manufacturing, which will be two-plus months before the product is generally available via retail. Microsoft officials are declining to say when those with MSDN and TechNet subscriptions will be able to obtain the final Windows 8 bits.
This item first appeared on ZDNet's All About Microsoft blog under the headline "Windows 8's delivery date: October 26."